السلام عليكم و رحمة الله و بركاته
أنا اليوم معي إحدى آخر إصدارات اللعبة الرهيبة نيد فور سبيد
أترككم مع الصور
البوستر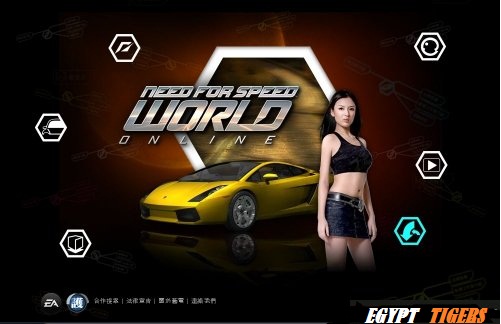 و هذه صور من اللعبة
[center]

Year: 2009
Genre: Arcade / Racing (Cars) / 3D / Online-only / Massively multiplayer
Developer: EA Black Box and EA Singapore
Platform: PC
Tabletka: Not required
Publication Type: license
Language: English, Chinese
Check your mail, and if necessary your spam folder for a message from EA saying whether or not you were accepted to participate in the World Online Beta Program.
We look forward to having you as a member of our beta community and hope you enjoy the experience. Be sure to visit the Need for Speed World site often for all the latest developments, behind the scenes information from our developer team, and more opportunities for you to give us your feedback or report bugs.
The beta version of Need for Speed World Online is a work in progress and intended to help our development team in creating the best game possible. You will likely come across bugs and glitches, and we strongly encourage you to report any and all of these issues to the Need for Speed World team.
As part of the beta program, you will occasionally receive emails from us, as well as surveys asking questions about your experience. We realize that filling out surveys is not the most exciting thing to do in your spare time, so we greatly appreciate your feedback and assure you that it will all be heard.
Good luck - we can't wait to see you on the road!
Sincerely,
The Need for Speed World team
http://world.needforspeed.com
This currently is the beginning session for the Beta
START TIME - Friday, March 5 at 9:00 AM PST (12 Noon EST and 17:00 GMT)
CLOSE TIME - Sunday, March 8 at 11:59 PM PST (2:59 AM EST and 07:59 GMT Monday)
More Days will be added to the schedule as the testing progresses.
The client download setup is 7.9Mb and is only available once you have logged in through the World Online site through the email.
After the installation program is run, you will need to login with your EA email and password, which then will start another download of 774.81Mb
Download
حجم اللعبة :1.47 Gb
مقسمة على 16 جزء كل جزء 100 mb
hotfile
hotfile.com NFS_WO_BY_CERTIK.part01.rar
hotfile.com NFS_WO_BY_CERTIK.part02.rar
hotfile.com NFS_WO_BY_CERTIK.part03.rar
hotfile.com NFS_WO_BY_CERTIK.part04.rar
hotfile.com NFS_WO_BY_CERTIK.part05.rar
hotfile.com NFS_WO_BY_CERTIK.part06.rar
hotfile.com NFS_WO_BY_CERTIK.part07.rar
hotfile.com NFS_WO_BY_CERTIK.part08.rar
hotfile.com NFS_WO_BY_CERTIK.part09.rar
hotfile.com NFS_WO_BY_CERTIK.part10.rar
hotfile.com NFS_WO_BY_CERTIK.part11.rar
hotfile.com NFS_WO_BY_CERTIK.part12.rar
hotfile.com NFS_WO_BY_CERTIK.part13.rar
hotfile.com NFS_WO_BY_CERTIK.part14.rar
hotfile.com NFS_WO_BY_CERTIK.part15.rar
hotfile.com NFS_WO_BY_CERTIK.part16.rar
megaupload
megaupload.com MKKEEBW9
megaupload.com VFJ57840
megaupload.com XIZJBV8K
megaupload.com 4OK74CX0
megaupload.com KVXQLVJA
megaupload.com OSMVQAOB
megaupload.com A1HB12MD
megaupload.com 3JUZ44O5
megaupload.com 7W4I5EAG
megaupload.com 358FKAB9
megaupload.com BXV0NI89
megaupload.com 2ZEKPGA9
megaupload.com ADO8DGC3
megaupload.com RDCHWTFT
megaupload.com PHADH5J6
megaupload.com ZCKQYHE5
filefactory
filefactory.com NFS_WO_BY_CERTIK.part01.rar
filefactory.com NFS_WO_BY_CERTIK.part02.rar
filefactory.com NFS_WO_BY_CERTIK.part03.rar
filefactory.com NFS_WO_BY_CERTIK.part04.rar
filefactory.com NFS_WO_BY_CERTIK.part05.rar
filefactory.com NFS_WO_BY_CERTIK.part06.rar
filefactory.com NFS_WO_BY_CERTIK.part07.rar
filefactory.com NFS_WO_BY_CERTIK.part08.rar
filefactory.com NFS_WO_BY_CERTIK.part09.rar
filefactory.com NFS_WO_BY_CERTIK.part10.rar
filefactory.com NFS_WO_BY_CERTIK.part11.rar
filefactory.com NFS_WO_BY_CERTIK.part12.rar
filefactory.com NFS_WO_BY_CERTIK.part13.rar
filefactory.com NFS_WO_BY_CERTIK.part14.rar
filefactory.com NFS_WO_BY_CERTIK.part15.rar
filefactory.com NFS_WO_BY_CERTIK.part16.rar
هذه روابط مقسمة إلى 8 أجزاء كل جزء 200 mb
rapidshare
rapidshare.com Need.For.Speed.World.Online.Beta.2009.Rizelusak.Oyun.part1.rar
rapidshare.com Need.For.Speed.World.Online.Beta.2009.Rizelusak.Oyun.part2.rar
rapidshare.com Need.For.Speed.World.Online.Beta.2009.Rizelusak.Oyun.part3.rar
rapidshare.com Need.For.Speed.World.Online.Beta.2009.Rizelusak.Oyun.part4.rar
rapidshare.com Need.For.Speed.World.Online.Beta.2009.Rizelusak.Oyun.part5.rar
rapidshare.com Need.For.Speed.World.Online.Beta.2009.Rizelusak.Oyun.part6.rar
rapidshare.com Need.For.Speed.World.Online.Beta.2009.Rizelusak.Oyun.part7.rar
rapidshare.com Need.For.Speed.World.Online.Beta.2009.Rizelusak.Oyun.part8.rar
أرجو لرد و ذكر المصدر عند النقل
hope u have fun and like it